AFTER FOUR YEARS OF TUMULTUOUS WAITING, THE WORLD FINALLY GETS TO MEET CAROL DANVERS IN ALL OF HER BADASS GLORY
Captain Marvel is the 21st film in the Marvel Cinematic Universe. You worry that after 20 movies, Marvel would struggle to capture the excitement of its fans across the world. But this is not the case.
Captain Marvel stars Brie Larson as Carol Danvers, an ex U.S. Air Force fighter pilot who becomes a member of an elite alien military unit. After a major accident changes her DNA, she is gifted with superhuman strength, flight and energy projection. She crashlands to Earth during the year 1995 and works in cohesion with S.H.I.E.L.D. agent Nick Fury to save the world.
So what makes Captain Marvel different from every other MCU picture?
The character
Well, for one, it's possibly the first Marvel movie that centralises on the story of a female superhero. Yes, we have Gamora, Wasp, Black Widow and Scarlet Witch. But Marvel has continuously struggled with female superheroes. It was only last year when Black Panther broke boundaries through characters like Nakia, Okoye and Shuri. Carol Danvers is undoubtedly one of the most powerful characters in the entire MCU. Yet she still acquires that emotional sense of humanity which makes her a compelling superhero.
It's almost like Carol Danvers and Captain Marvel are a sort of 'Dr Jekyll and Mr Hyde' combination. Larson describes Carol as a "true believer in truth and justice". Nonetheless she's also very funny and witty, constructing a close relationship with Fury. Larson describes the character as "aggressive and quick-tempered", an attribute not always seen in generic superheroes (apart from The Hulk, of course). The alien Kree side of her is a warrior which blends perfectly with her humanity to create a female superhero who is not only a major badass, but who also contains human flaws that differ from the characters we have already seen.
Plus, you have to give Brie Larson massive credit for her devotion to the role. She trained for nine months, learning judo, boxing and wrestling AND spent a lot of time meeting with active duty airmen to prepare for the role as much as possible. Larson notes in interviews that she took a lot of time considering the "leadership position of the part" before accepting the role. She calls herself an introvert, and wasn't sure about the huge amounts of fame that would come along with it. It's fair to say that I couldn't picture anyone else bringing the character to life on screen.
The boldness
Marvel is known for its highly-pricey special effects and green screen but this was something that the film's directors were quite unfamiliar with. Anna Boden and Ryan Fleck were fairly unknown before being given the job of creating Captain Marvel. Their previous work was mainly within the drama genre. So moving to the epicness of a Marvel feature film meant they had no experience with VFX. Because of this, it meant that the film used more locations and less green screen than your average superhero movie. This worked effectively, as it meant that the film focused on the character at heart. The essence of Captain Marvel wasn't lost through big explosions or special effects.
Of course, one of the biggest and most successful uses of VFX in the film is the de-aging of Samuel L. Jackson. Playing his iconic role of Nick Fury, Jackson was digitally de-aged by 25 years. This is the first time that Marvel has done anything like this for an entire film and I'm sure it won't be their last. This technical choice truly shows the advancement of cinema within the 21st century. Perhaps implying a huge element of freedom within the creative process of future films.
The women
The commitment to representation is clearly advertised and projected successfully. The film is Marvel's first female superhero movie (falling behind to DC's Wonder Woman) but it's not only the narrative that features women. It features a female director. Executive producer Jonathan Schwartz notes in the how they hired "female writers" and as many "female department heads" as possible.
Not only is the representation of the character something that will empower female viewers across the globe but Disney's radical choice to put women at the forefront signifies a change in film. Women still only account for 11% of top film directors. After the events of the #MeToo and #TimesUp movements, the industry is slowly vowing to reach a 50/50 gender equality in film.
I believe that Captain Marvel will work as a starting point towards the progression of a larger representation of women in film. Both for the creative and technical side, as well as character and story.
MY FAVOURITE POINTS
Samuel L. Jackson's performance
Jackson's performance was a highlight for me. The film showed a side to Nick Fury that we thought we would never get to see: he's funny, he's bold, he wasn't always this serious character that he's depicted to be. I never thought I'd see Nick Fury cuddling and sweetly speaking to a cat. Plus we finally got to learn how he earned his fabled scar on his eye…
Returning characters
It was amazing to see characters such as Phil Coulson and Ronan return to screens. Coulson has always been a favourite of mine and it was impressive to see Clark Gregg de-aged in a similar way to Jackson. Witnessing Ronan before he turned into the villain we know and love from Guardians of the Galaxy was another interesting feature.
The 90s nostalgia
Everything about this movie screamed the 1990s! Such as the music and the pop culture references. And it was just fab! The nostalgia worked effectively, drawing audiences in as soon as Carol crashed into the blockbuster store. Staging narratives in the past can sometimes be a tricky feat but Marvel absolutely smashed it. It's such a shame that there isn't an official soundtrack because I would be listening to it on repeat!
THOUGHTS?
Captain Marvel exceeded all of my expectations and truly empowered me as I sat avidly watching during the first midnight screening. I am so excited to see how she will tie into Avengers Infinity War (THE POST CREDITS SCENE)! A huge congratulations must be given to the entire cast and crew on creating such an iconic film that will change the superhero genre as we know it.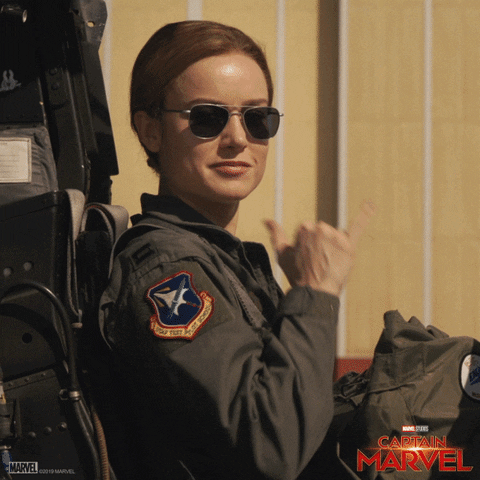 ---
---
---