WHILE NERVE RADIO PREPARES ITSELF TO RELAUNCH WITH A WHOLE HOST OF NEW AND EXCITING SHOWS, ONE OF NERVE'S FLAGSHIP PROGRAMMES FROM LAST YEAR IS RETURNING WITH A WHOLE NEW LOOK, A WHOLE NEW SET OF INCREDIBLE NEW TUNES, AND EVEN A WHOLE NEW PRESENTER TO RUN IT. IN ADVANCE OF ITS NEW SERIES PREMIERE ON OCTOBER 15TH, JAMES STEPHENSON WILL BE POSTING WRITTEN ARTICLES TALKING ABOUT HIS PICKS FOR THE BEST NEW MUSIC RELEASED OVER THE LAST WEEK, AND WILL CONTINUE TO DO SO THROUGHOUT THE REST OF THE YEAR. SHOWCASING THE BEST NEW RELEASES FROM ESTABLISHED ARTISTS, AS WELL AS UP AND COMERS WHO DESERVE A SLICE OF THE SPOTLIGHT, THIS IS THE ONLY PLACE YOU'LL NEED TO FIND SOMETHING NEW TO LISTEN TO.
DISCOVER SOMETHING DIFFERENT BY LISTENING TO NERVE RADIO'S NEW MUSIC MONDAY WITH JAMES STEPHENSON.
With New Music Monday growing closer and closer to launch, I can barely contain my excitement to get a whole new year of brand new music on the airwaves and into your playlists. Until then however, I've got more than enough enthusiasm spare to bring you the best bits from another spectacular, stunning and often strange week for Spotify's latest catalogue of tunes.
As usual, I could have had five worthy sets of Tracks of the Week – but with just eight picks to go around, there's had to be plenty of tracks I can't talk about at depth, but you can listen to on New Music Monday's dedicated Spotify playlist. Highlights this week include Jaden Smith trying out dubstep (I'm as shocked as you are right now), something truly insane from Mavi Phoenix that isn't suitable for those with a nervous disposition, and The Bourne Legacy star and most forgotten Avenger Jeremy Renner giving some gruff vocals to a decent house track. Have a look at all that bonkers-ness and much more by clicking on these orange words.
So, onto the cream of the crop. The gems. The very best songs I could find: this is the New Music Monday.
JAMES STEPHENSON'S TRACKS OF THE WEEK
We start off this week's collection with one of the most esoteric pop stars working right now – Charli XCX has brought on former YouTuber and now top class musician Troye Sivan in on this bass-fueled, electro-pop banger calling for a trip back in time.
XCX, real-name Charlotte Aitchison, has spent the last couple of years taking established pop music trends, ripping them in half, and scattering them in the wind – she's been dropping new songs almost every month this year on top of two mixtapes in 2017. Her unique, Tumblr punk aesthetic is definitely strange, but kind of hypnotic all at once – and incorporates references to The Matrix, based on this hilarious artwork.
'1999' is a track that combines both the best of Charli's particular brand of genre-mashing pop with the smooth vocals of Sivan, who follows up his very solid album 'Bloom' from earlier this year with a reliably strong feature here. While Charli XCX's style may not be to everyone's taste, its so immersive you won't regret listening to it.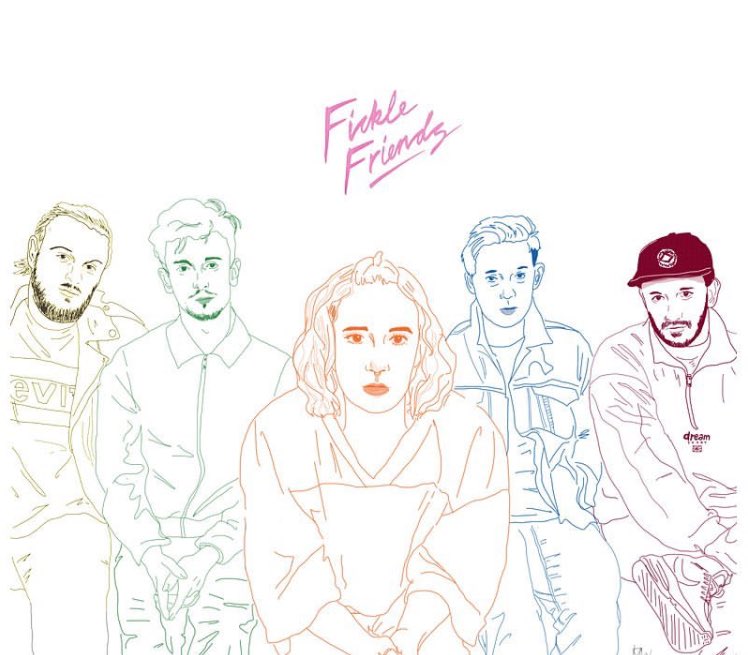 Fickle Friends are from Brighton, and are going to be one of the biggest bands in Britain very very soon.
Mark my words, honestly: this four-piece, led by the glowing Natassja Shiner on vocals, this band has been putting out spectacular songs at a remarkable rate. 'The Moment', a BOP in caps lock, is so good: stuffed with energy and rhythm like a Build-A-Bear, and what's even more impressive is that a track this good is typical for Fickle Friends. Their debut album from March of this year, the stunning 'You Are Someone Else', was full of songs this terrific.
'The Moment' seems to be a one-off single to promote their upcoming set of UK dates, and it will most certainly go off if its played at any of them. Fickle Friends have a 1975 vibe about them, even down to their producer who made Healy & company's self-titled debut: I sincerely hope that these talented musicians are going to be just as big.
Sun-kissed R&B and rap to cruise along the beach with the top down – you couldn't ask for anything more from 'Tints', the new song from the absolutely brilliant, yet still under-the-radar Anderson .Paak and the most definitely on your radar Kendrick Lamar.
This is an absolutely gorgeous beat for a start – the production on 'Tints' is absolutely brilliant, full of percussion and sweet, sweeping pads. The moment it kicks in, you can't help but smile and dance to this.
Paak delivers a soulful vocal that rides the beat like butter melting down hot toast – and then Kendrick Lamar arrives. And you know that he always delivers his Pulitzer Prize winning best. This is how hip-hop should sound – just an awesome record.
From the recognisable to, in the New Music Monday tradition, completely unknown. Flecks are a synth pop-duo hailing from Dublin, Ireland – a city rich in musical history, Sinead O'Connor, and a stunning record of Eurovision triumphs.
Their new single 'Samurai' is a triumph just the same. An incredible triumph. The atmosphere this song creates almost immediately is entrancing, holding you in place like gravity and yet without effort. Its a simple song, but it makes its effect all the more powerful – a pulsing synth line underpins the whole track, there's a sumptuous strawberry jam filling of ambient pads and vocals, and then over the top a near-perfect vocal by lead singer Freya Monks that sounds like a ghost trying to reconnect with the living.
In short, its a wow. Flecks have less than one thousand likes on Facebook. Yet another injustice in a week of them. If you fall in love with this song like I have, which I hope you will, go give them some love because they wholly deserve it. 'Samurai' is seriously good music.
THE PAVILION (A LONG WAY BACK) – COHEED AND CAMBRIA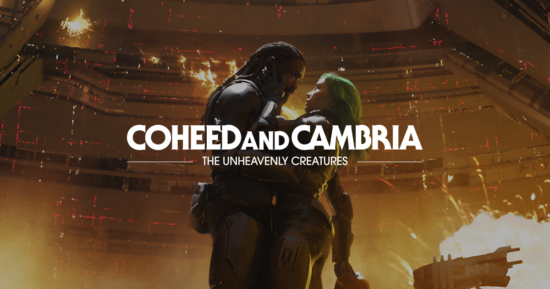 This year's New Music Monday is, hopefully, going to be a show where genre simply doesn't matter. A show that can hop from rock to pop, rap to dance, and occasionally showcase something totally different. And this week, I've found a beauty of a progressive rock record, courtesy of Coheed & Cambria. This band formed in New York back in the 90s, and have been stunningly them ever since.
They've certainly got the most interesting backstory we've ever had on this show: Coheed & Cambria's albums (bar one) have all been concept albums based on the science fiction-fantasy comic books of their lead vocalist and guitarist, Claudio Sanchez. If that sounds incredible, you wouldn't be disappointed with how it sounds.
Their latest concept album, the epically long-winded 'Vaxis – Act I: The Unheavenly Creatures', has just dropped and sounds like Pink Floyd, Iron Maiden and Green Day shoved into a cake. 'The Pavilion' is my personal favourite off this record: five minutes of head banging, exhilarating rock that will transport you to another world.
So this is amazing. 'Build' is the spectacular new single from Justine Skye, a SZA-esque singer with a goosebumps-inducing set of pipes, and its irresistible.
For a start, whoever produced this beat needs to get a fire extinguisher sprayed over them. Its got an awesome groove, terrific harmonies, and in Skye quite possibly one of the best new voices in R&B. She's been around a little while actually – signed to Jay-Z's Roc Nation, she's collaborated with Tyga and Jeremih (yes, 'Birthday Sex' Jeremih), and should be an absolute star in this journalist's honest opinion.
'Build' is a beauty of an R&B song – its got late night chill vibes all over it.
I first caught wind of Lily Moore thanks to Joshua Coase, the Jedi Master to my Padawan, who played a track of hers on one of his New Music Monday shows – and I'm just as big of a fan.
She's from Brighton (much like Fickle Friends – and I said this was an international show once), and has a voice from heaven, with a stunning tone that sounds like a more refined Amy Winehouse. 'I Know I Wanna Be With You' is taken from her latest EP, 'I Will Never Be', which is if anything a showcase for one of the best new voices in music.
This is a soul record, no question about it. And Moore nails every intonation of her sweet, loving lyrics; all the elements add up wonderfully, and this gospel-tinged track is a must-hear. She's going places, this one.
Whatever happened to Tom Odell? You know, the guy who won BRIT's Critic Choice not too long ago, then dropped his debut album and had it reviewed at 0/10 by the NME before subsequently dropping out of the public consciousness like a pebble into a vast ocean?
The answer to that question is he's still going, and he's made an improvement. The Chichester-born singer grew up on Elton John, and it shows in his new song 'You're Gonna Break My Heart Tonight', a new single from his upcoming third album 'Jubilee Road', out next week. And this heartfelt, piano-led ballad is absolutely wonderful.
It feels like the ending of a British TV show. Tom sings with anguish over a failing relationship, and the beat builds and builds as we feel his pain with him. Odell's crafted a truly wonderful song, one to put your feet up to with a drink and just sit with. Classic singer-songwriter stuff, and the perfect way to end this week's set of magnificent music.
JAMES STEPHENSON'S ALBUM OF THE WEEK
Once again, there's been a very decent set of albums to dive through this week, although one of my nominees I haven't actually listened to yet: A Star Is Born's soundtrack was released this week along with the much-hyped movie starring Bradley Cooper and potential Oscar winner Lady Gaga, and I'm not allowing myself to listen to it until I've seen the film that goes along with it. But 'Shallow' was amazing and I've heard great things, so go see that movie and check it out. Other mentions should go to synth wave act Gunship, whose new record 'Dark All Day' is so quintessentially 80s you feel like you need to be wearing orange shades and a leather jacket just to have permission to listen to it; and finally You Me At Six's new record 'VI' (Roman for six, don't you know!) is a really solid rock record you should check out: the toe-tapping 'Straight To My Head' was a reluctant cut from my picks this week, but appears proudly on the NMM playlist.
But this week's winner is fairly obvious.
I said last week that I was massively excited to listen to LANY's new record, 'Malibu Nights', and god I wasn't disappointed.
They've been releasing incredible single after incredible single in the lead-up, from the radio-ready bop 'Thru These Tears' to 'If You See Her', a glorious romantic ballad that featured in last Monday's Tracks of the Week. The main theme of LANY's songs on this record has definitely been getting over a break up, specifically (if you take Twitter as the word of gospel) frontman Paul Klein's suddenly scuppered romance with Dua Lipa.
LANY's sophomore record is about as good as pop can get. Nine songs long, its so tightly packaged, and there's not a beat or note out of place. Klein's singing and lyrics paint a picture of a man who's been gutted and his parts sold for scrap on the black market. 'Malibu Nights' is an exceptionally vulnerable record, and sometimes I feel like we as listeners underestimate how difficult and, honestly. brave it is to lay your soul to bear on a record. Its like we expect it from artists, but we sometimes forget those artists have the same fears about revealing themselves that a lot of us do.
Each track has its own special element: from the luscious guitar licks on opening track 'Thick and Thin', Jake Goss's tight, powerful drums on 'Take Me Back', and the general melancholic atmosphere that holds over this entire record, which has a perfectly controlled, brightly coloured aesthetic that elevates 'Malibu Nights' far above your average pop record.
The best track from this though is 'Malibu Nights', the closing track of the album and the one from which LANY have their title. It would have been on Tracks of the Week if this wasn't the week's best album, because it is absolutely stunning. Its stripped down to just the piano for quite a while, before it builds into a flat-out masterpiece: guitar, piano, drums all warped with beautiful pads to create a truly special album closer. 'Malibu Nights' is LANY's best record to date, and a new calling card for a band that could be one of the biggest in the world.
New Music Monday will finally make its long-awaited return to the Nerve Radio digital airwaves and the speakers of the Student Centre soon –  and will broadcast live every Monday at 6 (excluding holidays of course).
Until next week :)
---
---
---