Puberty get even harder.#BigMouth Season 2 is now streaming on @netflix. pic.twitter.com/YpzIbogEC9

— Big Mouth (@bigmouth) October 5, 2018
OUR FAVOURITE, RELATABLE ANIMATED SITCOM IS BACK, WITH JUST AS MUCH SCATALOGICAL HUMOUR AS LAST TIME.
Netflix's underdog series is back, and it's just as binge-worthy as ever! Created by star of the FX comedy series The League Nick Kroll and Andrew Goldberg, the show follows a small group of pre-teens as they navigate through the trials and tribulations of puberty.
After receiving critical acclaim for the show's first season, season 2 returns with a similar sharp approach to craziness of pubescence. You can't help but feel empathetic when you see the characters struggling with the awkward process of change. However Big Mouth presents it in a way which is simple in terms of animation, and smart in terms of the humour it features.
Season 2 in a nutshell
The second season focuses on the key characters once again:
Nick struggles with being a "late bloomer", as well as attempting to pursue a relationship with new girl, Gina. (Voiced by Gina Rodriguez, known for her award-winning role as Jane Villanueva in CW's Jane the Virgin.)

Andrew, Nick's best friend, returns to screens going through the physical changes of puberty VERY early and is haunted by the Shame Wizard for his vulgar behaviour.

Jessi tries to cope with the separation of her parents, being spurred on by her hormone monster to become a "bad girl".

Jay forms a close friendship with Coach Steve. Plus his large obsession with sex is once again a focal point for the character.

Missy uses the season as a turning point for change and spends later episodes exploring more of her sexual arousal.
The Newbies
One of Big Mouth's best features is it's voice actors. This season saw the introduction of Gina Rodriguez and David Thewlis (best known for playing Remus Lupin in the Harry Potter film series). Both actors did not disappoint.
Rodriguez's character was a nice addition to the group. Her sudden pubertal development causing quite the stir with the boys and her budding relationship with Nick was one of my favourite elements of season 2 . Thewlis's character, the Shame Wizard, was established through Andrew after his antics send him to a world of shame. As mortal enemy to the Hormone Monsters, the Shame Wizard turned the kids' world upside down. It was a nice twist compared to the previous season.
Star Power
When you can boast stars such as Maya Rudolph, Jordan Peele and Kat Dennings, it gives the show a little bit of a boost compared to other adult animated sitcoms. The three of them are comedy royalty. Even when Dennings and Peele's characters only appear for small moments, it's always a highlight.
Particularly Rudolph's performance as Connie the Hormone Monster. Her wild encouragement of Jessi and occasional extravagant musical numbers make her hilariously addictive to watch. And with the season ending with Nick finding out that Connie is his new Hormone Monster, things could either be getting very exciting or very intense for Big Mouth's titular character.
Season 3?
Just like season 1, the second season can be binge-watched within a day at least. This was something I certainly achieved, a key component of any Netflix series. But the only problem with binge-watching is that the wait for the next season is extremely antagonising.
With no confirmation of a third installment in the works just yet, an official announcement could be on the way in the upcoming weeks. With its cult following and rave reviews, season three could hopefully be with us sooner than you think.
You can watch the new season of Big Mouth here:
https://www.netflix.com/title/80117038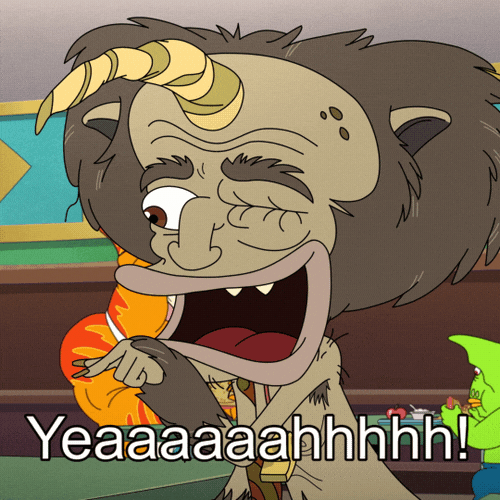 ---
---
---